My husband and I have been married for sixteen years and I truly believe that one of our biggest marriage secrets is prayer. We both pray to God. We give thanks for all of our blessings and go to Him (frequently) whenever we encounter a struggle. But when we approach God, we don't just talk.

We listen and receive the guidance and correction solicited. Our success lies in our belief that we actually need a power stronger than ourselves to help us when things get tough in our relationship. Marriage is hard work and we'll take all the power and strength we can get.
Powered by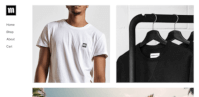 Create your own unique website with customizable templates.